Referee Clinic
---
---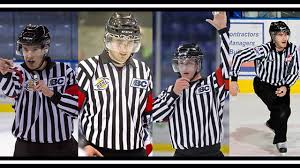 ---
Subject: Officiating for Williams Lake
Hello Everyone that is interested in Officiating for the first time or coming back.
I want to let everyone know that those that have never refed before, you need to sign up for Hockey University on the BC Hockey website and take the officiating online segment before you come to the classroom part of the course on September 14, 2019.
You need to finish the Online segment first in order for you to sign up for the Classroom segment!!!!!
Go to net, click on Clinics, scroll down to Hockey University, Click on the purple words "CLICK HERE", sign up and take the online course. It will take 3 hours to do the course so make sure you get it done before the classroom part of the course on September 14th.
You will also need to sign up for the Classroom part of the Clinic. You will need to go to" net click clinics, then click officiating clinics, click North Central, look for Williams Lake Clinic Level one and sign up. (This should be online on Friday, waiting for BC Hockey to post it).
The Classroom course will be September 14th, starting at 9 am till 1:00 pm at TRU - Rooms 1321 & Room 1323 . Everyone please bring a pen. After that the new refs will have an ice time at 3:15 PM till 4:15 PM to go over on ice stuff (Cariboo Memorial Complex - Rink 1). Need skates, Helmut, and black pants (needs to be all black) you will wear those all season long. A whistle will be provided. You will also be required to pay a deposit of $20.00 for your Referee Jersey.
After you ref five games and that to continue, you will be reimbursed for your two courses that you had to take. Please give me the receipts for both on Sept 14th.
Any questions, please email me.
Corwin Smid - Ref in Chief cjsmid@telus.net